Quality Assurance Cell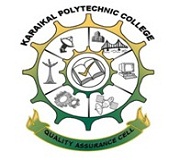 Karaikal Polytechnic College is striving forward to a qualitative and quantitative standard, hence working towards NBA. As an NBA activity, the Alumni have come up effectively to contribute for the development of this College. Apart from this Parents Teacher Association (PTA) has made a remarkable contribution towards discipline and welfare of this College. Quality Assurance Cell assures them not just quantity but provides qualitative education to the students. The progress report of every student is maintained periodically, sent to their parents and weaker students are identified and counseled.
Quality Assurance cell was inaugurated in karaikal polytechnic college for maintaining the quality of education. It was headed by Thiru.D.SIVAKUMAR, Convenor, Lecturer / EEE
Objectives:
To make interaction between Institution and Industries




To arrange for educational tour and industrial visits.




To arrange for apprenticeship training and suitable placement in industries




To conduct career guidance programmes / Seminars, Entrepreneurship programme, Technical symposium of state and national level, Quiz and project work, competitions




Tie up with the board of Apprenticeship & Training, southern region, Chennai and district industries center, puducherry in order to conduct various job-oriented activities.




To work for accreditation from NBA of AICTE




To create data bank of Industrial experts for the current and old students.



Career Guidance and counsellin Cell
The Career Guidance Cell was formed in the Karaikal Polytechnic college during the academic year 2002 – 2003. The main work of the cell is to conduct the Career Guidance programme for the all – final year students of this institution every year to create entrepreneurship awareness. The other objectives of the cell are
To identify the Business opportunities




To develop Leadership Skills




To develop Time Management




To develop Communication Skill



The career guidance and counselling cell was headed by Thiru.K.PADMARAJ, Lecturer in Electronics & Communication Engineering.
Activities of Career Guidance and Counselling centre started with the Entrance Coaching to final year students. Many students secured ranks in entrance coaching and joined higher studies of this college. First year students were imparted motivational programmes and communication skills development programmes with the trainers from PCB design, Steel structures, ORCAD to the final year students.
The aim of the programme is:
To orient the students towards aptitude skills




To achieve better success rate in interviews




To improve the confidence level in students




To improve the communication skill and to learn how to attend Group Discussions.



Industrial Visit
Industrial visit is considered as one of the most tactical methods of teaching. The main reason behind this – it lets students to know things practically through interaction, working methods and employment practices. Moreover, it gives exposure from academic point of view
The aim of such visit is to:
Exposure to Actual Working Conditions




Make Students Aware with Industry Practices




Increase Practical Awareness of various Industrial Sectors




Acquaint Students with Interesting Facts and Breath-Taking Technologies




Quality assurance cell- Training and Placement Center of Karaikal Polytechnic College organized industrial visit to Puducherry Power Corporation Limited, T.R. Pattinam for final year Electrical Engineering students.




QAC Also arranged industrial visit to BSNL, Karaikal for the final year Information Technology and Computer Engineering students.



Apart from this the Quality Assurance Cell in co-ordination with Industry Institute Partnership of Karaikal Polytechnic College organized Industrial Visit to FISHING HARBOUR, Karaikal for the Department of Civil Engineering students, MARG – KARAIKAL PORT, Karaikal for the Department of Civil Engineering and Community College students, NATIONAL INFORMATICS CENTRE, and BSNL Karaikal for the Department of Information Technology and Computer Engineering Students and HENKEL-SPIC INDIA PVT LTD., Karaikal for the Department of Mechanical Engineering students to impart the Technical Knowledge about the industrial arena to the student.
QAC Team Members
Name
Designation

Dr. C.Sairam Sundaram
Lecturer in Chemistry

Convenor

Er. J.Jayaprakash
Lecturer in IT

Training and Placement Officer

Er. K.Senthilvel
Counselling Center Incharge
Lecturer in Mechanical

Career Guidance and

Er. N.Boopathi
Lecturer in Civil Engg

Member

Er. J.Pasupathy
Lecturer in Mechanical Engg

Member

Er. Sape Vijayakumar
Lecturer in EEE

Member

Er. V.Sendilkumar
Lecturer in ECE

Member

Er. S.Savithri
Lecturer in IT

Treasurer